GALVESTON, TX — More than a dozen wedding guests were brutalized by police officers during a raid on a wedding party at a hotel.  Cops fired tasers, used batons, and generously applied pepper spray to the guests of a bride and groom hours after their wedding.  Among them was former pro-baseball star Brandon Backe, who said the shoulder injuries that he received from police caused his pitching career to end.
After causing a gaping head wound, bruises, hair pulled out, a broken nose, and pepper spray on numerous individuals, the only reprimand any of the officers received was a paperwork violation.  Interestingly, none of the 3 dozen cops reported any use of force.
Wedding Crashers
An event that should have been happy and memorable turned into violence and chaos when the Galveston Police got involved.  A couple had just exchanged their vows and were celebrating with friends and family at the San Luis Hotel.
Everything was fine until an off-duty police officer thought that he had witnessed the bride's brother, Daniel "Cole" O'Balle, 19, walking outside with an alcoholic beverage in his hand.   Suspecting an under-aged adult had consumed a beverage without government permission, and violated the "open container" prohibition law, he phoned the police department for backup.
"I never thought I would have to go into a room and pray for my brothers life within hours of getting married."
Police officers arrived to confront Mr. O'Balle.   Joe and Shannon Belluomini, guests of the wedding party, witnessed the altercation and said that O'Balle was complying with security.  Nonetheless, "out of nowhere, mayhem started," explained Joe Belluomini to KTRK.
When the Belluominis tried to defuse the situation, they became targets themselves.  Shannon Belluomini explained to KTRK that her husband was grabbed by the throat as Mr. O'Balle was assaulted.  "The officer that had a baton in his hand started beating Cole with it.  And then there just seemed like there were more and more officers."
As Shannon Belluomini witnessed Cole O'Balle getting pummeled with baton strikes, she tried to intercede to protect his head, which was gashed open and bleeding.  "That's when they grabbed hold of me and threw me backwards and basically encased me with mace.  It felt like acid being poured over my face and my eyes and my chest."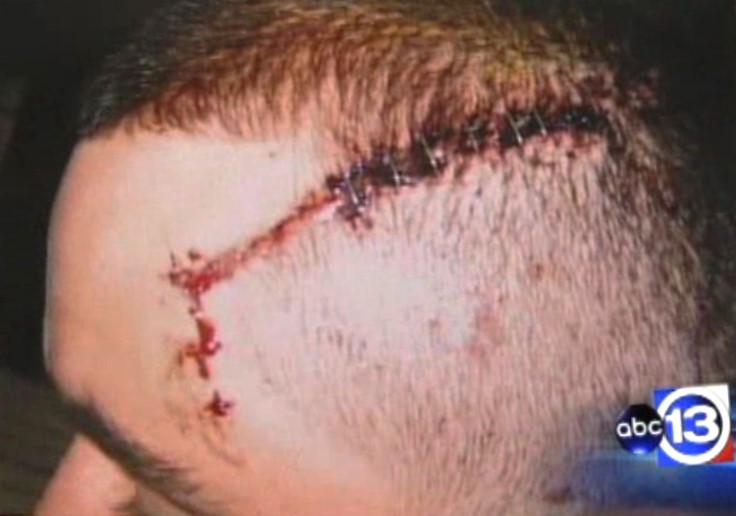 As the commotion ensued, the wedding party came out to see what was the matter.  Police lashed out violently to all who came within striking distance.
A total of 34 officers stormed the scene, prepped to handle what was described as a "riot."  Witnesses said the officers swarmed into the bar swearing at patrons and beating, pepper spraying, and tasering people without provocation.
Gil O'Balle, the father of the bride, saw that the police had split his son's skull open and was attacked himself just for asking what had happened.  Gil was then tased, pepper sprayed, and arrested
"I never thought I would have to go into a room and pray for my brothers life within hours of getting married," said the bride, Amanda Lankford to KTRK.
Cole O'Balle had to be flown via helicopter to a hospital for immediate medical care.  Cops arrested 13 people for 'resisting arrest.'
Baseball Career Ruined
Source: houstonchronicle.com
Brandon Backe, a pitcher for the Houston Astros, was in attendance to the wedding since he was a childhood friend of the groom.  As a pro-baseball player he had appeared in the World Series in 2005.  The injuries he endured during the commotion would ultimately lead to surgeries, permanent pain, and a ruined career.
"I heard a frantic voice saying, 'They got Cole.'  I could tell by the tone of the voice that something wasn't right," explained Backe in court.
When Backe and others went outside to see the horrific head injury that Cole O'Balle had sustained, they were told by Officer Nicholas McDermott "back the f— up!" according to Backe.
Source: kens5.com
But Backe said there was no more room to back up.   "Chill out, we can't back up. You've got enough room," Backe replied.   He says at that point several officers attacked him.  He says he was struck until he fell to the ground and received a beating until his face was bloody.  He said one officer kicked him in the face, breaking his nose.
Backe said that officers slammed his body into a concrete curb and then piled on top of him, beating him continuously.  His shoulder took a hard blow from the concrete.  "I hit the ground hard and they just got on top of me," he said.
That pain in that shoulder never subsided, Backe said in court.  After surgeries and prolonged pain, his baseball career was forced to an early conclusion.  "You want to be able to hang it up yourself, not let someone else hang it up for you," he said.
The incident occurred over on October 5th, 2008, but is still being worked through the court system.  The incident caused twelve people to join a lawsuit against the Galveston Police Department for allegations of brutality.  Brandon Backe is seeking damages for his career being destroyed.
Here is a brief video that was recorded during the incident.   Note the use of taser as individuals — including the bride's father — were not resisting.
Operating As Trained
For all the brutality and wanton attacks committed that night, no officers were fired.  As far as the chief was concerned, every instance of force was justified.  The only complaints that Galveston Police supervisors had was that the incident wasn't documented properly.  According to the Houston Chronicle:
An internal police investigation completed in March 2009 found that officers followed department policy in making arrests and applying force but that 13 officers failed to properly document the incident. Nine officers were suspended without pay, and four were issued written reprimands.
No "use of force" forms were filed at all, despite a gaping head wound, hair pulled out, a broken nose, pepper spray on numerous individuals, and obvious signs of bruising and beating on the arrested wedding guests.
While these omissions were themselves upsetting, many were shocked by the lack of acknowledgement of the brutality, and the lack of discipline following it.
"Split a skull open — bleeding on the brain — and its a paperwork violation?!" remarked Gil O'Balle.