ANCHORAGE, AK — (EXCLUSIVE) — A young man's deteriorating health led the state of Alaska to assume full control of his medical care — against his own written will and the against the wishes of his family.  Since last October he has been trapped in a hospital, isolated without visitors, on an extensive series of psychotropic drugs, in a condition that continues to diminish.
Medical Misfortune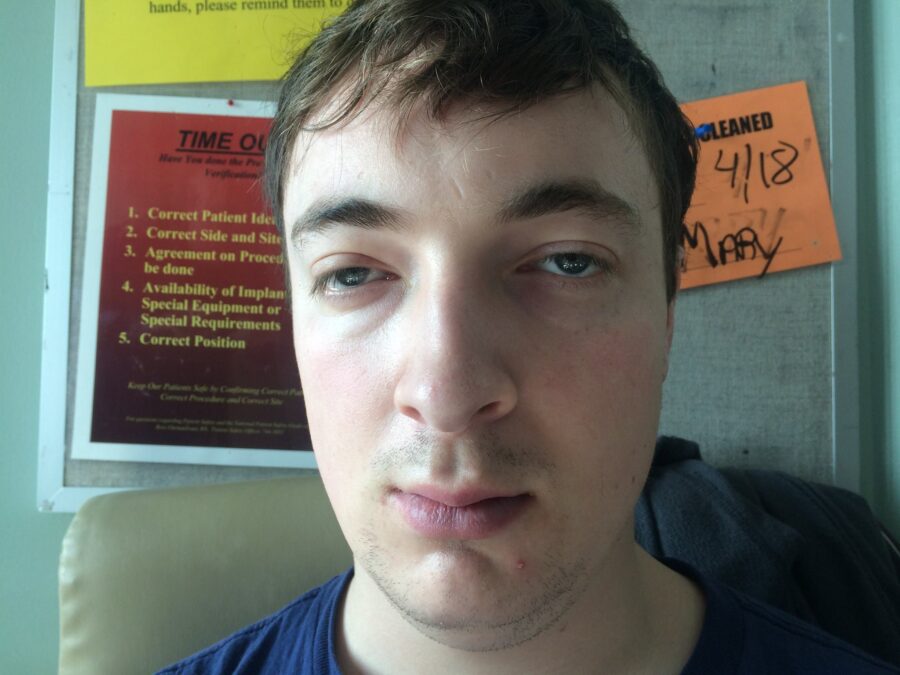 Bret Byron Bohn is a native Alaskan who loves hunting, fishing, snowmobiling, and most outdoor activities.  He lived an exemplary life receiving many awards as a youth, became a member of the National Honor Society, and achieved the distinguished rank of Eagle Scout.  He had recently graduated from a program in Aviation Technology.
At 26-years-old, Bohn worked as a field guide for hunters and outdoorsmen on expeditions in the Alaskan wilderness.   While otherwise healthy and athletic, his only medical issue was the development of some nasal polyps which impeded his ability to smell.  He had them surgically removed, but they grew back.  He was prescribed Prednisone — a powerful steroid and immune suppressant — to attempt to regain his sense of smell.
While on Predisone, he began suffering with the inability to sleep for a prolonged period.  After a week of insomnia, his family took him to Providence Alaska Medical Center in Anchorage.  They hadn't realized it at the time, but one of the listed side effects of Prednisone is sleep disturbances (insomnia).
Rather than take him off of the drug that was likely causing the sleep problem, doctors prescribed two more powerful drugs to supposedly calm him down and help him sleep.  He was given Zolpidem (brand name Ambien) which treats insomnia, as well as Lorazepam (brand name Ativan) which treats anxiety, depression and insomnia.
After taking the prescribed combination of drugs at at home, Bohn had seizures — potentially because the drugs he took are known to cause seizures.  His family took him back to the hospital, looking for answers, and he was given more drugs, and had more seizures.  He was put into intensive care.
Hospitalization
His hospitalization would be marked by periods of prolonged periods of sleep deprivation, apparently related to his medications.
Physical tests to this point had turned up no signs of what could be wrong with Bohn.  Over 35 lab tests failed to produce abnormal results.
Bohn remained unable to sleep for a total of 24 days.  His condition was severely diminished.  He was in a state of "delirium," according to court records.  His family assumed power of attorney over Bret through a written agreement he had previously drawn up in 2007.
At one point the exhausted patient decided he had enough and removed himself from his IV, unplugged himself from his machines, and removed his catheter.  He wanted to leave.
Bohn was convinced to calm down with the help of his family, whom at first trusted the doctors' course of action.  They began to object to when it was evident to them that the drug therapy was hurting Bret, not helping.   Soon they were pleading with doctors to take him off of the drugs in order to let him sleep.  At one point doctors briefly relented, and Bohn was finally able to sleep — for a time.
A notice with the court was filed regarding the "escape attempt."  The hospital and social workers alleged that Mr. Bohn was delirious and a danger to himself, and that his parents were not suitable guardians.  On November 5th, 2013, Adult Protective Services filed for emergency guardianship over Bohn, and the court soon granted it.  His parents' power of attorney was considered null and void.  His written will was overridden.
Doctors characterized his disgruntled, combative state — after weeks of insomnia — as a sign of mental illness, and that he was irrational and a threat to himself.  Hospital staff put him into a psychiatric ward, physically forcing his compliance.  They began administering psychiatric drugs, beginning with Haldol, which is used to treat schizophrenia.
No Diagnosis, No Rights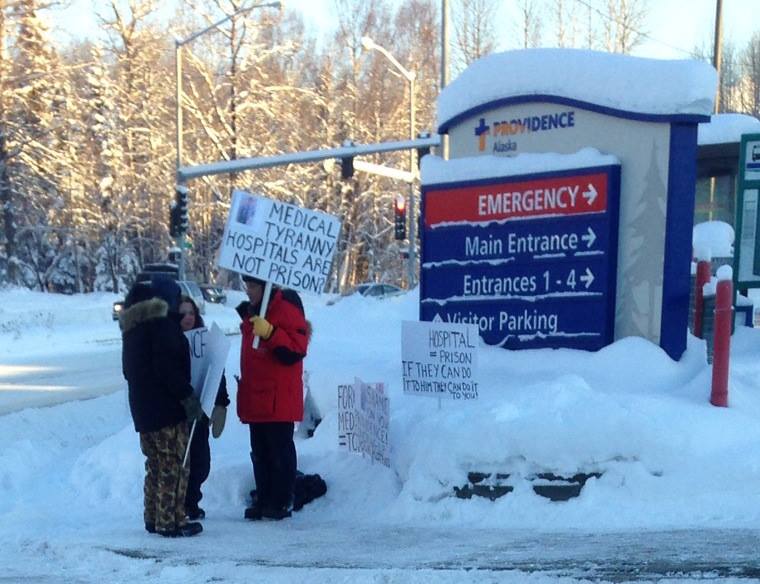 After the disputes between doctors and parents over his medication, Providence portrayed Bohn's family as interfering with his treatment and a threat to his well-being.  They alleged that they were going to help him leave without being medically discharged, and that they did not have his best interests in mind in light of his supposedly life-threatening illness — which as of then remained undiagnosed.  They alleged that his mother, Lorraine Phillips, wanted to physically harm her son, Bret.
His ability to have visitors was reduced to once per week.  Phone calls were not allowed.  He was effectively a prisoner on the 5th floor of Providence, and doctors were free to medicate him with impunity.
His family was looked at with increased scrutiny during the sparse visitation sessions.   Whispering was not allowed between Bohn and his mother during their one weekly interaction.  The hospital monitored their visits and did not allow her to give him things like organic carrot juice, as if she might be trying to poison him.
The family's pleas for a change in his medical plan, for a second opinion, for his release, or for his transfer to another hospital were all ignored.   With Bret Bohn now a ward of the state, they had no reason to listen or comply.
"Bret wants to go home," his mother explained.  "Bret tells Providence he wants to go home, but Bret's rights have been stripped from him and the doctors' orders are Bret stays there at the hospital. They tell Bret everyday he is in a safe place and they tell Bret the doctors know whats best for him."
Parents were now left to fight for their son in court.  But that would be a disappointing, financially exhausting process for the family.  The state called Mr. Bohn "delirious," "disoriented," "incapacitated," "impaired," "mentally unstable" and asserted that he had a mental illness, and therefore could make no decisions for himself.  Based on the family's opposition to doctors' drug regimen, the fact that the parents attended a protest in front of the hospital claiming their son was a "prisoner," and hearsay evidence that Lorraine Philips wanted to harm or kill her son, the court ruled that Bret Bohn would be put into permanent state care.
His mother insisted that the allegations that she would harm her son were false and concocted to make the state's case.  She told Police State USA that a public guardian was the only allowable option in the eyes of the court because they wanted the guardian to be free from the influence of the parents.   Family members and friends were said to be unable to "exercise independent judgement."   Bret's boss was considered ineligible because it supposedly would have violated HIPAA law regarding disclosure of Bret's medical records.
"Nobody was found capable of making 'good decisions' because they could be swayed by his parents," she said in an interview.  "I've never seen anything like it."
Isolation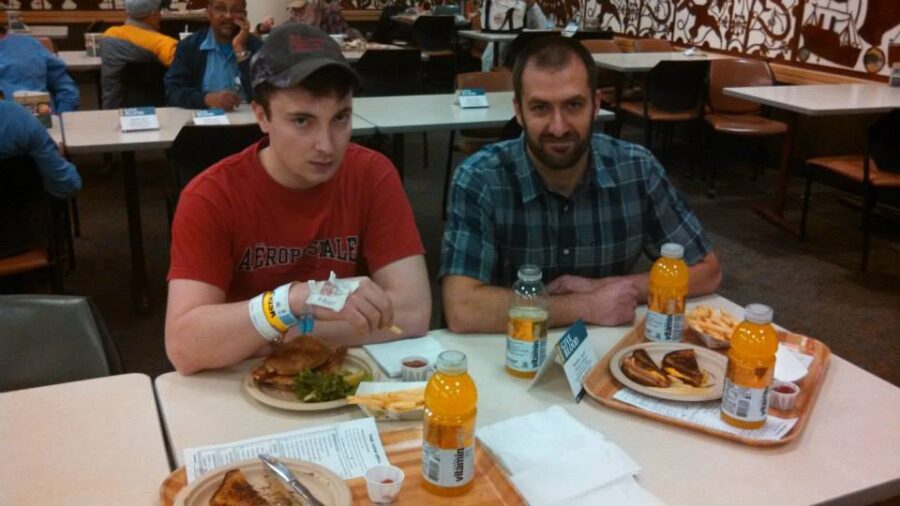 With Bohn in the full custody of the Office of Public Advocacy, psychiatric doctors ordered that Bohn have no further visitation by anyone, claiming that isolation was in his best interest.  His parents were cut off from their son, and were told that he may never be allowed to come home again.  They were threatened with arrest for trespassing if they came to the hospital.
The drugs that the hospital has forced on Bohn were too numerous for his mother to list in an interview — over 22 that she was aware of — and included Resperidone and Haloperiodol, among other powerful anti-psychotic drugs.
Bohn has been isolated from his family since December.  The last time he saw his father, Bret told him that he just wanted a breath of fresh air and a good night's sleep.
It was not until January when Bohn was finally diagnosed with something: autoimmune encephalitis.  Supposedly, his immune system was attacking his brain.
Despite being told by doctors that their son could "die at any time," the isolation was strictly enforced and family has been kept away from Bret.
"We don't even know if they will tell us if he dies," his mother tearfully explained, illustrating how far the hospital has removed the family from their son.
On January 12th, Bret Bohn turned 27 years old.  He spent it in isolation, as he does every day, drugged into a stupor, without friends or family allowed to visit.
Bohn's friend Koreen Lamoreux said to The Northern Light, "Today (Jan. 12) is Bret's birthday, and no one gets to see him. He missed Thanksgiving, and no one got to see him. He missed Christmas, and no one got to see him. And now it's his birthday, and no one gets to see him. I don't see how anyone who has his best interest at heart can deny him visitation and leave him solitary."
Bret's father, Glenn Bohn, is afforded a 15-minute toll-levied phone call with the hospital legal department.  He has been told that "Bret does not want any visitors, phone calls, or a breath of fresh air." A complaint filed by the family states that the brief, weekly phone calls end with the department's assurances that they "are only doing what Bret wants and for the best interest of Bret."
The notion that Bret Bohn doesn't want visitors has been received by his family with incredulity.
"There is NO WAY Bret would refuse to see his parents," Bret's cousin Jason Phillips told Police State USA. "They are great parents. This is absolutely disturbing."  He added, "His parents being accused of not being suitable to work in Bret's best interest literally rips my gut out."
Bret Bohn's captivity may continue indefinitely, and soon he may be transferred to Johns Hopkins Medicine Research and Clinical Trial Tertiary Facility, in Baltimore, Maryland — far from native Alaska, far from his family, and against the wishes of everyone who loves him.  The doctors intend on performing a biopsy of his brain and forcing him to take trial drugs, which they now have the unlimited capacity to do since he is effectively property of the state.
"Prisoners have more rights," said his mother.  She said that her last impressions of Bret were him living in fear of his doctors, feeling abused, and wanting his family.
With permanent guardianship established over Bret Bohn, it is unclear if he will ever be freed or if he will be a permanent prisoner and test subject for the government-sponsored medical industry.  He may very well be serving a death sentence, perhaps wondering why no one is coming to see him.
And while the courts can order the indefinite detention of a grown man in a hospital, they cannot order the hospital to allow visitors for a patient.
Bohn's case number in the Alaskan Superior Court in Anchorage is 3AN-13-2737PR.
Police State USA reached out to the attorney representing the parents.  On February 18, the following press release was provided:
On February 7, 2014, Judge Erin Marston of the Anchorage Superior Court ordered Bret Bohn to be assigned a permanent public guardian.  In doing so, Judge Marston ruled that Bret's father, mother, sister, aunt, uncle, cousin, and closest friends were all unsuitable to be Bret's guardian.  Worse, Judge Marston actually found that Bret's mother intended to harm him — despite clear evidence to the contrary.

The family is devastated by Judge Marston's decision.  Bret has now been inside Providence Hostpital since October 19 — four months.  No family member has seen Bret since December 25, and his mother has not seen him since December 3.  It took nearly three months for Bret to be diagnosed with a rare autoimmune disorder, and — now that a proper diagnosis has been made by his doctors — Bret's family is eager to follow the prescribed course of treatment so that Bret can get well.  But apparently, this is not enough.

Bret's friends know him to be a thoughtful young man of foresight.  To that end, Bret executed an Advanced Healthcare Directive, naming his mother and father as his healthcare agents.  Like many other Alaskans, it was Bret's preference to have close family members make health decisions in the event that he became incapacitated.  But, apparently, the court has ignored Bret's written request.

The Bohn family appreciates the love and support they have received from many in the Anchorage community, and the State of Alaska at large.  They are perplexed, and we are very disappointed with Judge Marston's order.  We ask for your continued prayers as we help the Bohn family consider their next step in seeking to help Bret.

Signed, Wayne Anthony Ross, ROSS & MINER, PC
Attorneys for Glenn Bohn and Lorraine Phillips
A Plea For Help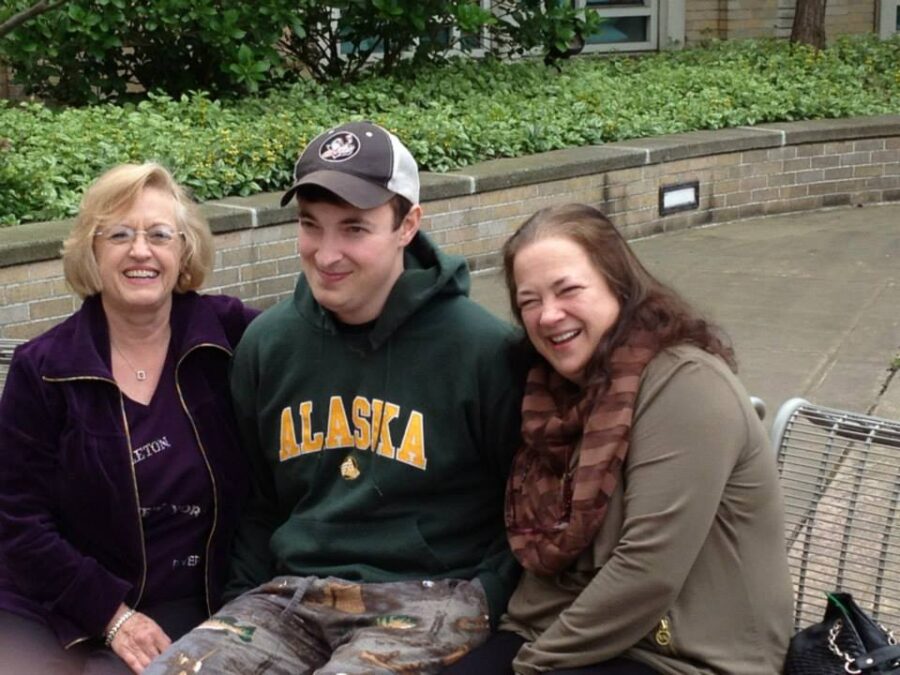 The family is in sore need of support, prayers, and financial help.  Having no real options left, they are asking for their story to be shared and are supporting an Alaskan bill, H.B. 214, which would reform the standards under which a person may be held for psychiatric evaluation in the state.
The detention of Bret Bohn is an eye-opening look at how doctors and courts are capable of nullifying a person's rights and freedom in the name of "doing what is best" for the patient.
The problem of forced institutionalization is not restricted to displaced minors like Justina Pelletier, as this case makes it clear to adults that they could easily be one hospital visit away from being involuntarily detained themselves.
This combination of ego and unchecked power is exacerbated by the fact that the federal government finances the indefinite hospitalization of patients like Mr. Bohn and has effectively created financial incentives that will produce more cases just like this one.
Bret's only hope for release is loud and boisterous outrage from the public.   Contact information is listed below for those who are willing to speak out.
If this can happen to Bret Bohn, it can happen to anyone.
Timeline of Updates
10/16/2013 — Bret Bohn was taken to Providence Alaska Medical Center. He was taking doctor-prescribed drugs and had not slept for 11 straight days.
10/25/2013 — Bret remained hospitalized, but the medical center restricted his parents from visiting him when they objected to inundating him with more drugs instead of weaning him down.
11/5/2013 — Adult Protective Services filed for emergency guardianship over Bret. Their contention was that Bret was too incapacitated to make his own medical decisions.
11/15/2013 — Judge Erin Marston granted APS emergency guardianship over Bret; denying the role to his parents or any family member.
2/7/2014 — Judge Marston assigned Bret a permanent state guardian, again denying his parents. Bret remained in hospitalized and without visitors.
2/27/2014 — Bret's father Glenn Bohn was granted a single 1-hour visit; the first contact Bret has had with any visitors in roughly 9 weeks. Glenn was not allowed to bring any legal counsel, and was forced to be in the presence of 2 security guards, a hospital attorney, and hospital staff while seeing his son.  Bret seemed "withdrawn" but did respond to questions.  He indicated that he wanted more visits from his parents and asked his dad to bring some hunting magazines next time.  Bret was teary-eyed when his father was forced to leave.
3/11/2014 — Glenn and Lorraine were given a last-minute notification that they would be given a visitation privilege. They dropped everything and made the nearly 1-hour drive up to Anchorage to see Bret. Glenn had brought along the hunting magazines his son asked for. When they arrived, they were intercepted by the Providence Legal Department and a nursing staff member.  The parents were told that "Bret had changed his mind" and that no visitation would be allowed.  No courtesy call was made to inform them of the "change of status" during their long drive from Wasilla.  Glenn says he asked a nearby security guard to deliver the magazines to Bret, which drew a surprised reaction, as if the guard had heard nothing about the visit being cancelled.
3/26/2014 — After showing no signs of improvement, Bret was transferred out to Harborview Medical Center in Seattle. This was a joyous moment for family and friends who finally got to visit Bret in a more relaxed environment. But Bret was still not permitted to make his own decisions.
4/22/2014 — Frustration had been mounting between hospital staff and Bret's family over what they felt was an unnecessary drug regimen that was not helping Bret. Allegedly, Lorraine wheeled Bret out of the hospital to seek a second medical opinion. She was arrested 3 days later for "kidnapping" her own adult son.
4/2014 — Bret was placed under a new physician, Dr. Combs, who agreed to wean him off of the mind-altering pharmaceuticals (including Ativan and Resperidone).
5/2014 — After drastic improvement under Dr. Combs, Bret was released from Harborview and moved to Idaho to stay with family members, after 7 months of forced hospitalization. Pictures were shared on Facebook of Bret sightseeing and doing well. However, there technically remained some custodial strings attached to Bret in Alaska that needed to be severed. In consult with doctors at Harborview, he worked on safely reducing his intake of medications down to zero, as he and his family had desired from the beginning.
6/13/2014 — Bret's lawyer in Alaska successfully argued that his client was "ready to reenter society," and was able to terminate Alaskan custody over Bret. He was now free to return home.
6/19/2014 — Bret returned to Alaska a free man, and prepared to go back to work.
Bret's cousin, Jason Phillips, told Police State USA that Bret had been weaned off of all his medications and finally appeared "non-sedated" and "like the person he was 7 months prior."
"Seeing him now, off all meds, he is back to normal, and doesn't show any signs of side effects, and or any mental illness, and/or auto-immune brain disease as was being advertised by the medical teams," Phillips said. He lauded Dr. Combs at Harborview for weaning him off of the unnecessary, harmful drugs.
Bret's drug-addled stay at the hospital was hazy and made it hard for him to communicate, but he had no recollection of ever requesting that any visitors be turned away.
The fact that Bret is now drug-free and symptom-free seems to be a vindication of what his family had been saying all along — that the drugs were the root cause of Bret's problems.