SPRINGFIELD, VA — A paramilitary force was dispatched to a townhouse after a woman reported a domestic dispute between her and her boyfriend.  When her boyfriend stubbornly chose to stay inside his home, police shot him and drove an armored truck through his front door.
The situation began on August 29th around 2:40 p.m. when John B. Geer — a 46-year-old kitchen designer and installer — was told by his girlfriend that she had decided to leave him.  The couple had two daughters together, ages 13 and 17.  Emotionally distraught over the breakup, Geer exacerbated the situation by throwing her belongings onto the lawn of their townhouse.
This led to her calling the police.  She informed the dispatcher that he owned a firearm.  A SWAT team was sent to the quiet cul-du-sac.
Geer's home was surrounded by armored vehicles and uniformed personnel.  A police sniper was photographed lying prone in a neighbor's yard aiming toward Geer's residence.  Men in helmets and military fatigues cordoned off the neighborhood.  Police began making their demands.  An armored truck a topside gun turret parked in his yard and prepared for a strike command.  As time went on, helicopters whirred overhead and K-9 units were seen by neighbors.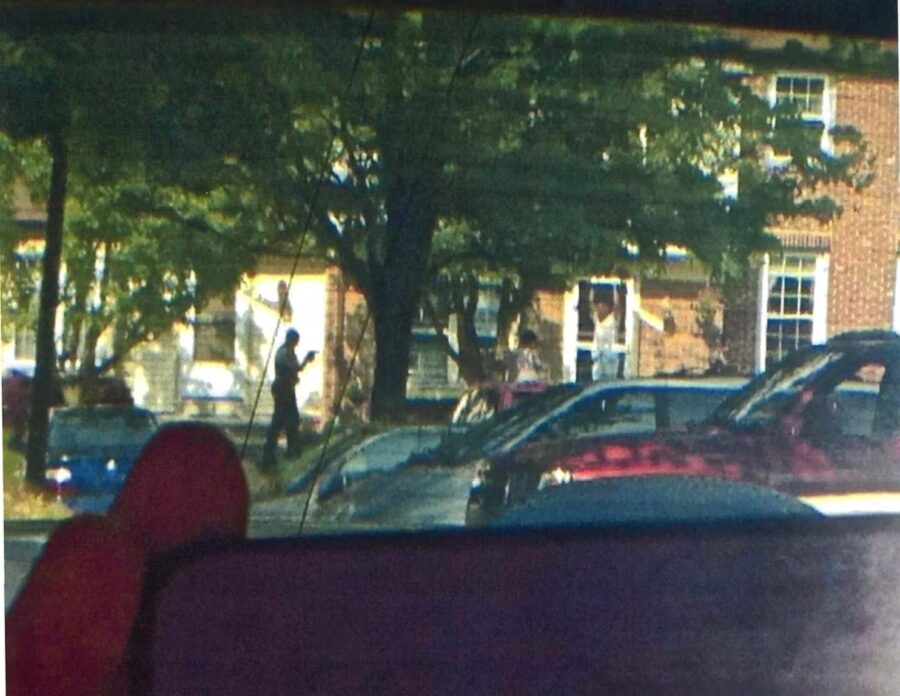 "We're just here to help you — come out with your hands up," recounted neighbor Edith Eshleman, of the police negotiations.
Fairfax County police officers spent approximately 40 to 50 minutes communicating with Geer, insisting that he either let them in his home or that he exit into their custody.  He did neither.  Geer was "a very stubborn man," according to one of his relatives.
Geer's girlfriend and two teenage daughters had already left when the negotiations came to an abrupt conclusion.  An officer shot Geer through a screen door as he stood facing outward at them.
Geer closed the door and retreated into his house. He collapsed on the floor and died behind the door.
Around 4:30 p.m., with Geer sill "barricaded" inside his home, police used their $250,000 armored Lenco Bearcat to drive a long battering ram through the front door.  SWAT team members made entry and ultimately found Geer deceased in his home. Reportedly, officers had to walk over Mr. Geer's body.
Don Geer — the victim's father — watched the scene unfold from the front lawn of the townhouse where officers positioned themselves with their guns trained on his son. He confirmed that his son's hands remained empty and resting on top of a screen door throughout the confrontation with police. When John lowered his hands about six inches, according to Don Geer, one of the officers fired a shot and hit John, causing him to retreat.
Police did not immediately say whether John Geer was armed or why the officer decided to open fire, nor would they discuss the details of the conversation between the officers and Geer before the shooting. Geer's father says that he was too far away to hear the conversation, but claims that a detective assigned to investigate the case told him that his son that his son was not holding a gun at the time of the shooting and that he did not have one on his person.
"It was very scary because I've never seen coming down the street a SWAT team — I mean, a SWAT team?!" exclaimed neighbor Valerie Findley.
Neither Geer's father nor his good friend understand why the standoff ended in the death of a man with no prior convictions for violence. They do not believe that John was armed at the time, though both acknowledge that he owned a gun. Geer's father said that the detective in charge of the investigation told him that a holstered handgun was found on the stairway landing a "couple of steps" from the front door where he was shot.
"If he doesn't have a weapon in his immediate possession, the officer should not have fired," Don Geer said. "He would have to have turned around, bent over and then picked up the gun to present a threat. It's pretty hard to say the shooting was justifiable."
The officer involved was placed on routine administrative leave while the investigation continues, and police are remaining tight-lipped about the details of the incident.  Fairfax County Police Chief Ed Roessler said that the shooting is still an active criminal investigation adding that he could not provide more information about what happened, or address neighborhood concerns just yet.  They have not yet revealed what justification, if any, their officer had for shooting Geer.  The police said in a written statement, "Precise movements, contents of the discussion between officer [and the] man, and all pertinent matters relating to the incident are under investigation."
"It's my goal when I can legally share that information with the community, I will," Roessler told News4.  In September, investigators confirmed that Geer had been unarmed, according to WJLA.
The police response arguably escalated the situation instead of defusing it.  This is a recurring theme in a string of examples of how police suffer from a dearth of training in how to deal with unarmed, uncooperative citizens who had not been charged with committing any crime. What police lack in empathetic response, they more than compensate for with an excess of military toys and the use of force.
Their unsubstantiated concern for the safety of the public notwithstanding, the police are required to seek a warrant from an impartial magistrate before engaging in the search of private property and seizing of persons.  The allegation by an equally emotional girlfriend that John Geer was an owner of firearms does not constitute probable cause to violate his rights and ultimately end his life.  As John Geer had not yet committed any offense to warrant his arrest, and with his family already off-site, police should have defused the situation by themselves leaving the scene.
Refusing to be forced from your home or to allow agents of the state to enter without a warrant is not an offense punishable by execution. And though his mental state was, in the words of his friend Jeff Stewart, "emotionally wrecked that day," the antagonistic response from the state cannot be touted as a positive outcome by any reasonable standard.
WJLA Channel 7 and NBC 4 Washington interviewed witnesses and obtained video of the incident. View them below:
FOLLOW-UP: John Geer's survivors have waited a full year and has not received any answers about why the police shot him dead while unarmed inside his home. There has been no public explanation about the investigation; no official stance on the legality of the shoot; no release of the officers' names; no criminal charges pressed.
"It's been hell," said Don Geer, the decedent's father. "Frustrating to say the least — not knowing anything and having a feeling of helplessness, sadness, anger. Just wondering what's going on and why nobody would tell us anything."
John Geer was shot at 4:30 p.m., and was left to bleed out on his floor. His body had not been moved by at least 9:00 p.m., confirmed the mother of his children, Maura Harrington.
An autopsy report concluded that he died from blood loss.
The Geer family has filed a lawsuit against the police alleging wrongful death.