RAINS COUNTY, TX — A man says that when he called police to report that his home had been burglarized, he waited hours for an officer to arrive — only to witness his dog promptly being shot in the head by the responding deputy. He says when more backup arrived, they mocked and intimidated him with a taser.
On April 18th, Cole and Jayna Middleton discovered that their home had been broken into.  Several items had been stolen, including the family's firearms.  Mr. Middleton phoned the Rains County Sheriff's Office for help.
Mr. Middleton, a farmer and cattle rancher, tended his crops while waiting approximately 2.5 hours for a deputy to arrive and take a police report. Middleton's father was in the pasture with him, along with the family's beloved pet and trusted cow-herder 'Candy.' Candy was a 3-year-old Blue Heeler (also known as an Australian Cattle Dog) and weighed approximately 40 pounds.  She was sitting in the back of a pickup truck as they worked.
When Rains County Deputy Jerred Dooley arrived, Middleton and his father both say they witnessed the deputy stick his head into the door of their house, which was nearly 40 yards away.  Candy barked at the unknown stranger, hopped out of the truck and approached the house "bark[ing] like all good dogs do,"  Middleton described.
Cole Middeton and his father immediately made their way up to the house to meet the deputy, but it was already too late.  Candy was dying on the ground of a gunshot wound to the head.
"I shot your dog, sorry," Middleton remembers Deputy Dooley telling him.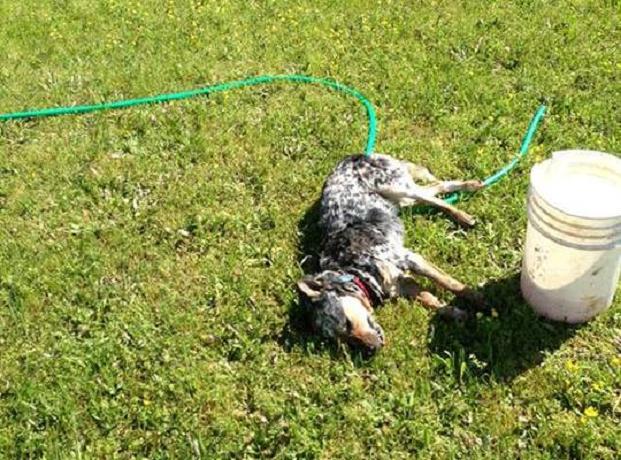 Middleton says that Candy was shot behind the ear — in the side of her head — a wound he believes indicates that she was not facing the deputy.
The deputy then retreated to his squad car, and using his vehicle loudspeaker, ordered the men "do not approach the vehicle."  Reinforcements were called.
Middleton says that he could not bear to see his dog "yelping and thrashing in unbearable pain."  He asked the deputy to finish her, but he refused.  Middleton's guns had been stolen — the reason for calling the police — so he had no choice but to mercifully end her life with his bear hands; he gathered some water in a bucket and drowned her.  He was devastated, and stressed that Candy was only barking and had never been aggressive.
According to the rancher's account, 3 additional police officers arrived in separate vehicles.  A state trooper named Hayes allegedly pulled up and immediately threatened the grieving family with a drawn taser.
Middleton described the four officers as "very intimidating" and decided that documentation was necessary and began filming the encounter with his cell phone.  Video shows Trooper Hayes, with his weapon still drawn, mocking the victim by looking into the camera, saying:  "Hi mom! Hi Channel 8! How you doing?"
The video documents the six men having a heated discussion for several minutes.
"He pulls up to my place and shoots my damn cow dog," an upset Mr. Middleton told the other officers.  "The man pulled up without cause and shoots my dog."
"I had no choice.  I wasn't gonna get bit," Dooley attempted to explain.
Middleton documented the incident in a detailed Facebook account.  "When we call on peace officers for their help and assistance we expect them to serve and protect us, especially if we are the victims," he wrote.  "Serve and Protect? More like Invade and Attack."
Unfortunately the Middletons are the latest victim of a nationwide epidemic of unnecessary pet killings by police — otherwise known as "puppycide."  (See more cases of puppycide here.)
UPDATE:  Sheriff David Traylor has swiftly reacted to the outrage over Deputy Jerred Dooley.  On April 24th, less then one week since the incident, Dooley was terminated from the department.
The Middleton family says the necropsy report by a veterinarian proves that Candy was shot in the back of the head, reported KTRE.
This will be chalked up as a victory of filming the police and citizen activism.